President Donald Trump has not exactly proven himself to be good at building relationships with foreign leaders — and that's putting it lightly. He has made enemies of leaders all around the world since taking office last year; to that end most recently, he imposed tariffs on imported goods from a whole host of countries allied with us — including France.
Trump has, unsurprisingly, received a significant measure of backlash for his decision to impose the tariffs, but he's remained undeterred in his efforts to accomplish what might as well be called showing the world who's boss. That low level is what he seems to be thinking on.
Thursday evening, he tweeted:
'Please tell Prime Minister Trudeau and President Macron that they are charging the U.S. massive tariffs and create non-monetary barriers. The EU trade surplus with the U.S. is $151 Billion, and Canada keeps our farmers and others out. Look forward to seeing them tomorrow.'
The awkwardness in the relationship between Trump and the French president extends beyond the above tweet. The two men's relationship has been notable in the past for being marked by a long series of bizarre handshakes; when French President Emmanuel Macron visited the United States earlier this year and participated in a joint press conference with Trump, the event began and ended with such a bizarre encounter.
The men's opening attempt at a handshake is below.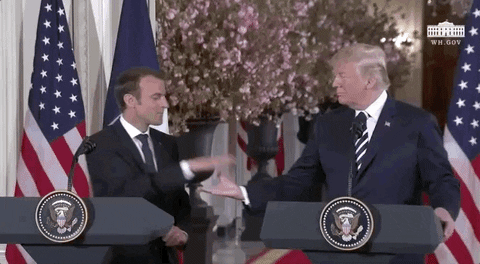 The one that closed the press conference that day back in April is below.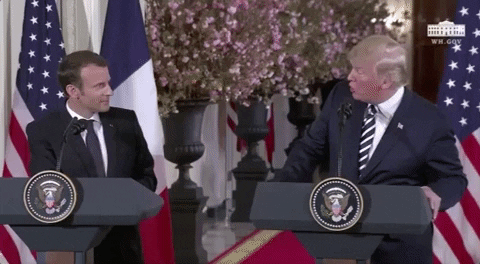 A reporter with Mashable quipped of the above handshake:
'Macron is out for blood, and after the final shoulder grab it's clear he won this round.'
The Friday trip the president references in his above cited tweet is one he's taken to Canada for the G7 summit, a summit that he's already made his mark in connection to for reasons beyond his hostility towards French President Macron and Canadian Prime Minister Justin Trudeau. He suggested on the one hand that he would support readmitting Russia to the group despite their ongoing hostilities on the global stage, and on the other hand, he suggested that he could deal with issues surrounding the North Atlantic Free Trade Agreement while there despite the fact that Mexico, one of the parties to that agreement, isn't actually a member of the G7.
That highlights what makes the perpetual handshake awkwardness between Trump and Macron perhaps stick out more than it would otherwise. That awkwardness includes the president's trip last year to France as a guest of the Macrons for Bastille Day, where he shared a handshake with the new French leader that lasted almost thirty seconds.
Overall, on a much more serious level than any concerns about a handshake, Trump just doesn't know what he's doing when it comes to global policy. His experience before taking office brought him around the world at times, sure, but he went from having no public service experience to being the president of the United States. When president, one needs to consider the takes of people besides oneself, and that's not something Trump has shown a particular propensity for. He just keeps fumbling around.
Featured Image via Andrew Harrer/Bloomberg via Getty Images