This must be the week that on-the-edge political men have been getting on their women counterparts' last nerve. Former Orlando, Florida Chief of Police of and current U.S. Representative Val Demings was speaking during a House hearing about policing. Then, former college wrestling coach who ignored student sex abuse and sitting Representative Jim Jordan freely butted into her time. She let him have it. Then, this happened.
The junior Supreme Court Justice Brett Kavanaugh snarled at the Democratic women senators and was extremely rude during his hearing. Then, a brave witness came forward and said that he had sexually attacked her when she was in high school and he was in college. This woman was an expert witness, holding a Ph.D. in abuse issues.
Law and Crime journalist for The Slate, Mark Joseph Stern, reported that U.S. Supreme Court Justice Sonia Sotomayor had warned that a court heavily weighted with six justices "ranging from highly conservative to far right-wing religious extremist" would not work well. She said, according to The Law & Crime site:
'[This court] is willing to overrule precedent without even acknowledging it is doing so, much less providing any special justification,"willing to overrule precedent without even acknowledging it is doing so, much less providing any special justification.'
Justice Sotomayor issued a strong warning to Americans as she rebuked Justice Brett Kavanaugh in a "blistering but brilliant dissent." That warning was echoed by legal experts.
Donald Trump shoe-horned into the court his third and last justice, Amy Coney Barrett. She "will not honor precedent" or "stare decisis" (star-ee dee-sigh-sis) in legal terms. This will impact a number of issues such as a women's right to an abortion and even whom to marry.
 Justice Sotomayor wound up her arm and sent Kavanaugh a stark warning via Jones v. Mississippi.  The case was about a 15-year-old boy who murdered his grandfather. The boy claimed it was self-defense, but he was sentenced to life in prison. As a minor, the court ruled that sentence in "non-homicide crimes" amounts to cruel and unusual punishment. There were exceptions for incorrigibility or the inability to be rehabilitated.
The ACLU's position was the same, but regardless of what sort of crime the young person committed with his still-developing mind.
Justice Kavanaugh wrote the 6-3 majority opinion upholding the majority opinion sentencing a child regardless of rehabilitation possibilities. This was not even explored in the lower court.
Slate's legal expert Mark Joseph Stern wrote that Kavanaugh's ruling was "barbarous." He added that Sotomayor's Kavanaugh criticism was:
'[It was] one of the most savage passages she has ever written.'
She wrote:
'How low this Court's respect for stare decisis has sunk. Not long ago, that doctrine was recognized as a pillar of the "rule of law," critical to "keep the scale of justice even and steady, and not liable to waver with every new judge's opinion.

'Now, it seems, the Court is willing to overrule precedent without even acknowledging it is doing so, much less providing any special justification. It is hard to see how that approach is "founded in the law rather than in the proclivities of individuals.
'[The ruling was a "contortion" of previous rulings] as this Court has consistently reiterated, "a departure from precedent demands special justification." [The Court offers] no such justification today. Nor could it.'
One individual posted:
'Remember, Christine Blasey Ford was 15 and Kavanaugh was 17, when Kavanaugh and a friend, both "stumbling drunk," forced her into a bedroom during a gathering of six teenagers at a private home.'
Stern wrote his own opinion:
'This will be an extremely painful decision for opponents of juvenile life without parole. The conservative majority has effectively abandoned precedents curtailing JLWOP, which will make it much, much harder for young people sentenced to life in prison to secure early release.'
'Sotomayor criticizes Kavanaugh for overturning precedent without acknowledging it. "The Court simply rewrites Miller and Montgomery to say what the Court now wishes they had said, and then denies that it has done any such thing," she writes. "The Court knows what it is doing."'
'And this portion of Sotomayor's dissent, aimed squarely at Kavanaugh—and using his own past words against him—is one of the most savage passages she has ever written. It is also a very ominous warning.'
 'Today's decision is a huge blow against the movement to end juvenile life without parole. As Sotomayor correctly notes in her dissent, the court "guts" precedents that had strictly limit JLWOP. This is a major defeat for JLWOP reform.'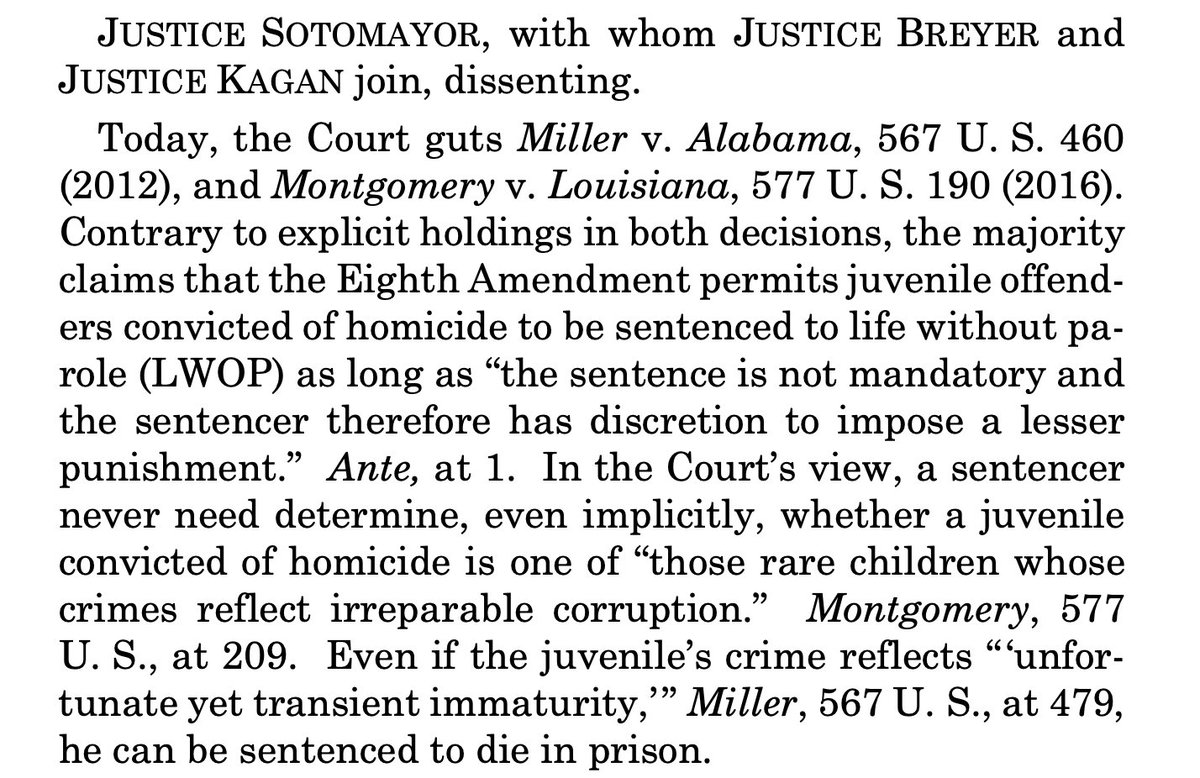 'Sotomayor's dissent is brutal. Kavanaugh claims to follow precedent limiting juvenile life without parole, but Sotomayor writes: "The Court is fooling no one. Because I cannot countenance the Court's abandonment of Miller and Montgomery, I dissent.'
'The Supreme Court's second opinion today is in Carr v. Saul. In a very divided decision with a majority opinion by Sotomayor, the court found no issue-exhaustion requirement for Appointments Clause challenges to SSA ALJs.'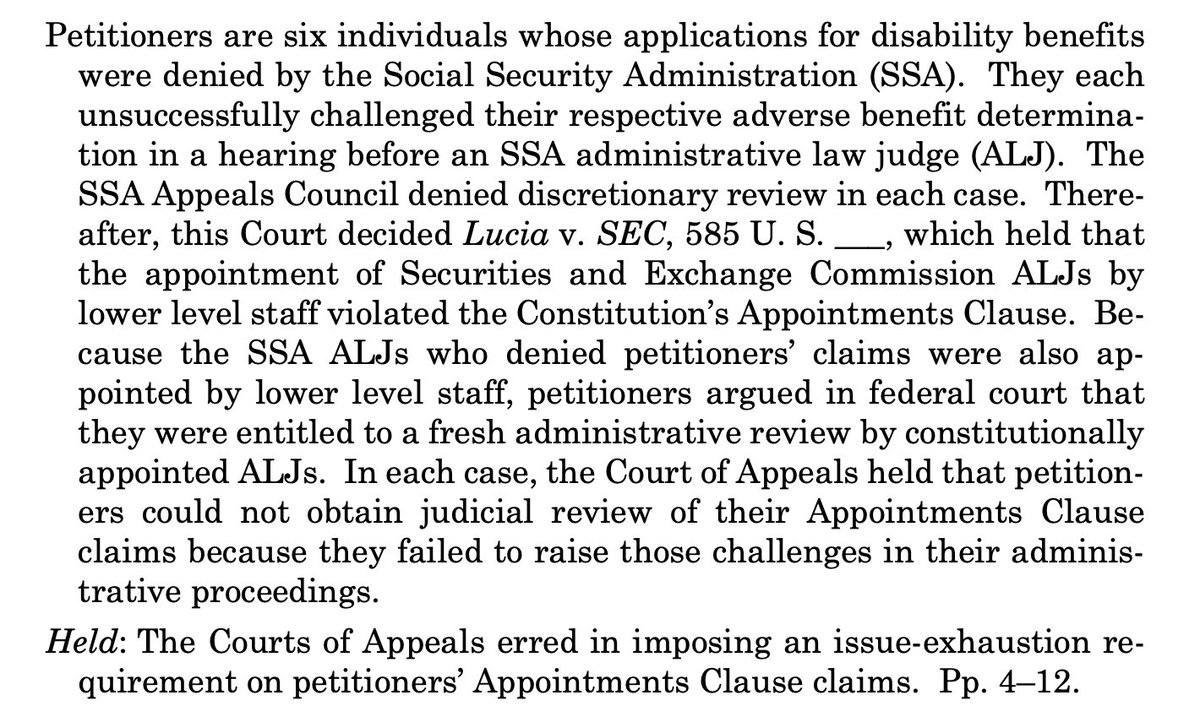 'The Supreme Court's third and final opinion today is a unanimous decision by Breyer in AMG Capital Management v. FTC that bars the FTC from seeking restitution or disgorgement under §13(b) of the FTCA.'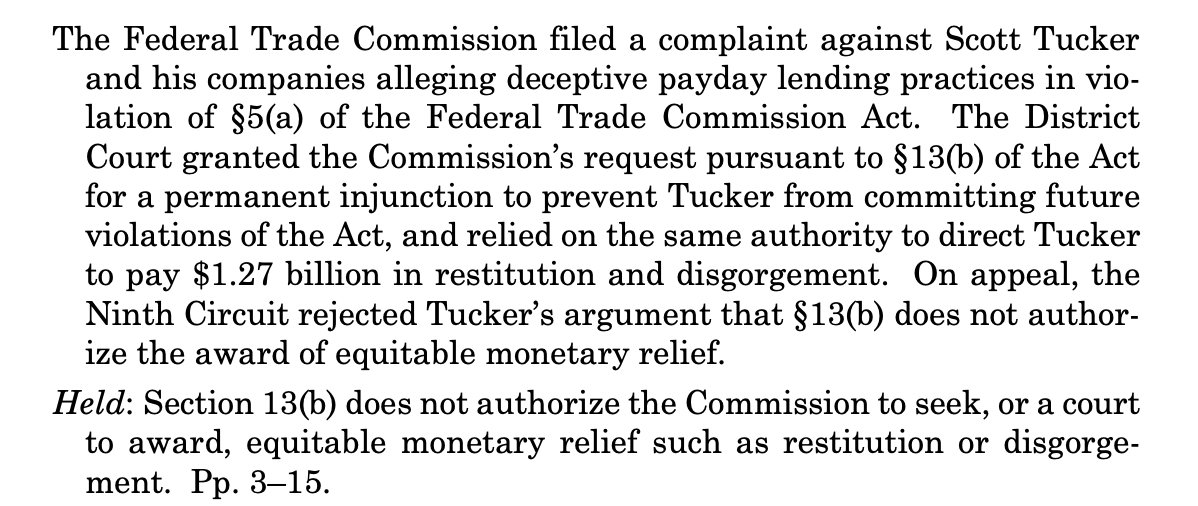 'One last thing I want to say about the Supreme Court's terrible decision in Jones v. Mississippi today: The defendant was 15 at the time of the crime. 15 years old. And the Supreme Court has allowed him to be condemned to die behind bars. It's barbarous.'
The Mueller Report Adventures: In Bite-Sizes
 on this 
Facebook page
. These quick, two-minute reads interpret the report in normal English for busy people. 
Mueller Bite-Sizes
 uncovers what is essentially a compelling spy mystery. Interestingly enough, 
Mueller Bite-Sizes
 can be read in any order.